Curatorial Mutiny together with our partner
Vision Forum
are proud to announce a year of activities that focus on artists, scientists and performers in the Nordic countries. Projects include
"Marcus Krapp's Last Tape"
in collaboration with
BLVVD
, musicians in Finland and Lithuania, dance and theatre performars from the entire Nordic region; "
The Hidden Everyday
" which is a collaboration with Pikena på broen, Kalmar konstmuseum, FCAC in Shanghai and a select number of artists from Iceland and North West Russia. We are also starting a platform for more visionary outlooks on the future with international network OuUnPo, Wooloo in Denmark and BAS in Istanbul. Below you will find more information about the events.
Marcus Krapp's Last Tape
Marcus Krapp's Last Tape is a travelling and experimental festival that brings together visual art, music, science, dance, literature into an all-encompassing one-night experience. The play/workshop/gathering will be performed in Umeå, Helsinki, Ålesund and Kaunas in autumn 2015 and spring 2016. In each venue, local performers will be invited to present a passage of the play.
Marcus Krapp's Last Tape takes its name and its narrative form from Samuel Beckett's play Krapp's Last Tape. But in order to highlight that each participant looses some of his/her identity in the process of negotiating with other genres and disciplines all performers will have the first name Marcus or Markus: neuroscientist Predrag Petrovic will become Marcus Petrovic; dancer Carima Neusser becomes Markus Neusser and musician Jukka Rintamäki becomes Markus Rintamäki.
Each evening will start with a presentation of the project and will be followed by the opening of the play. An old man sits bent over a tape recorder. The performance will merge into a musical improvisation. The sound collage will blend into a lecture on aging and psychosis from a clinical perspective and merges into a specially produced filmed sequence of Beckett's play where suddenly a dancer appears. The screening goes black and the dancer appears in the space dressed identically and the evening will progress in this manner until an old man reappears in front of the tape recorder: "Be again on Croghan on a Sunday morning, in the haze, with the bitch, stop and listen to the bells. (Pause.) And so on. (Pause.) Be again, be again. (Pause.) All that old misery. (Pause.) Once wasn't enough for you. (Pause.) Lie down across her."
Marcus Krapp's Last Tape brings together creators from Sweden, Finland, Norway and Lithuania. It is organised by Curatorial Mutiny, BLVVD, Vision Forum in dialogue with the venues in the respective countries.
Marcus Krapp's Last Tape will be documented by a book along with documentation of sound and moving images. The project will offer new and challenging formats for dialogues between genres, disciplines, languages and cultures. Marcus Krapp's Last Tape will offer new ways of understanding and developing Nordic cultures, languages and how they can thrive by co-existing and dialoguing.
***
The Hidden Everyday
- A cultural exchange between China, Norway, Russia and Sweden 2015-16.
Participating artists: Lise Kolstad Yuen, Li Xiaofei, Per Hüttner, Egill Sæbjörnsson + local artists TBA for each venue.
Supporting institutions: Kalmar konstmuseum, Kalmar, Sweden; Karolinska institutet, Stockholm, Sweden; Vision Forum, Norrköping, Sweden; Pikene på Broen, Kirkenes, Norway; partners TBA in Murmansk.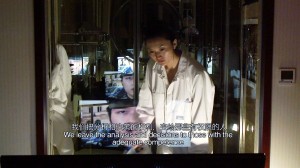 Background
Lise Kolstad Yuen, Li Xiaofei, Per Hüttner were in residency in Munich spring 2014 which resulted in an exhibition and a video program both under the title "Change and Exchange." During the residency a dialogue around the relationship between inner and outside world of the human experience developed between the three artists. The discussions sparked the idea for a larger collaboration between the three artists and their respective countries.
Project
The artists of the project will together visit neuroscience labs, psychiatric wards, kindergartens, prisons, homes for the elderly and factories in the four countries (Sweden, Norway, North West Russia and China.) The idea is to visit sites that are "hidden away" from the public gaze in order to understand why certain human activities are deemed less appropriate to be seen. The artists will talk to people living and working in these places in order to get a sense of their private and professional lives.
The goal of the visits is to get a better understanding of two questions:
- What can be learned from what we hide away, especially in regards to the creation and maintenance of human empathy?
- How can art become better at supporting the creation and maintenance of human empathy?
Recent research in neuroscience suggests (often leaning on the Implicit Association Test) that the brain tends towards prejudice and that human empathy is the only tool to counteract the "populist hardwiring" of our neurological system. The participants of the project see that art can play a far more active role in this process than it does today. But in order to develop this potential we need to learn more about empathy and how we can develop new ways of working with different audiences. Empathy also safeguards that Nordic cultures stay open and intercultural.
The Visits
-Factories: We use objects produced in factories every moment of our waking lives. But where are these objects produced? Who are the people who work there? Most of the worldwide production of goods come from China and there are ethical problems related to workers' rights and health - something that more need to see?

-Neuroscience labs: Science claims to be truly global, but are labs identical across the globe? Neuroscience currently offers new research related to the importance of empathy in human interaction - how can art use this?

-Psychiatric wards: Are there cultural differences between how we see psychiatric disorders? Recent research suggests that the very expectations we have on mental disorder shape what psychotic states people enter. Are psychiatric disorders seen differently in China and Europe?

-Kindergartens: Are kindergartens in Scandinavia and China the same? How has the single child policy influenced values?

-Elderly care: Do the sick and the old need to be hidden from view?
The Partners
Most of the partners in the project (Pikene på broen, Kalmar konstmuseum, FCAC, Vision Forum, Karolinska institutet and artists in and around Murmansk,) will host social events where people from the visited sites can meet and discuss their life situations. There will also be public lectures by the artists about their practice and about their work with the project. These events will build new audiences, new interfaces and new working methods both for artists and partners – especially in relation to the visited sites.

Through the project, the artists will understand better how new artistic expressions can trigger the desire to expand individual lives and take on new challenges. The project will also give the group a deeper understanding how art can play a more active role in safeguarding diversity, tolerance and the creation of new and inspiring ideas in different communities.

The project draws together artists from Sweden, Norway, Iceland, North West Russia and China and connects people from fertile and densely populated areas with some of the most hostile and lightly populated areas of the world. The collaboration is of special interest in the light of the climatic changes that have re-opened the North East Passage; the shorter northern route between Europe and Asia. It has become possible to ship goods between Europe and Asia. This has sparked great investor interest in the arctic. These changes will lead to a greater exchange between the two regions and we see artistic exchange as an important step towards a more important and meaningful between the people(s) engaged in these dialogues.

The interdisciplinary nature the project encourages new dialogues and cultural production that are innovative and open to a broad audience. Together with partners and artists we will encourage our audiences to appreciate the complexity of Nordic cultural heritage and how it is linked to diverse sets of backgrounds and roots that cannot be contained in the borders of a single country, discipline or language. Together we want to dare them to take on new challenges.
This research will later lead to exhibitions that will be created in 2016-17 in Sweden, Norway, North West Russia and China. But before that we will bring together a wide selection of the participants for an evaluation event in Sweden in spring 2016.
****
OuUnPo – Reintroducing Visions of a Future
Background
The project arises from "Catastrophe and Heritage" an interdisciplinary project that over the span of two years, and with sessions in Lebanon, Japan, Italy and Brazil, has investigated how a threat, a catastrophe or a situation of crises can offer opportunity for creation. The research focused on the relationship between past and present, historiography and retrospective readings. The project's outcomes are now inspiring new questions in regards how we look at the future. "Catastrophe and Heritage" offered interesting examples of how the flow of time affects the interpretation of past events, showing that history is a form of "backwards-projection". From this stance we want to research forms of "forward projection" and discuss with a larger international audience how this can be of value in the present. How can we find sustainable solutions to how we imagine futures and what aspects of these projections are global and local in the three countries?
Goals
The project promotes visionary thinking and the elaboration of a future glossary through critical analysis and artistic creation with the aim to support democracy and freedom in the Nordic countries by dialogues with Turkey and Macedonia. It brings special focus to the historical fact that European democracy was born from Utopian ideals. It looks at how women can influence a more humane development in Macedonia and Turkey and how young people can become engaged in visualizing and formulating a future in the face of a dire economic climate.
The project will create of a series of workshops, public events in Sweden, Denmark and Turkey. We target artists, intellectuals, academics and people working in the media. We have chosen to target these target groups, with the aim that they in turn will influence a broader audience. The events will be interdisciplinary, mixing artistic creation with critical theory.
Problematic
The project takes as a starting point the loss of visionary and utopian thinking permeating our societies and particularly the political discourse in the last decades. The democratic crises which is shaking Europe today is urging artists and practitioners in the cultural field to elaborate, discuss and share with a wider audience different paradigms and forms of projectuality about our shared future.
The project acknowledges that both the democratic principles and the atrocities of the 20th century were born from utopian ideas. However with the loss of Utopia and 'Future' from our vocabulary, we also lose our perspective on history. The project aims to counteract this tendency and create a platform where to re-appropriate the idea of a shared future through both critical analysis and artistic creation. It will investigate contemporary ways of looking at the future, how our projections on the future are shaped by the past and how past futures have shaped the present.
Together we will focus on how the outlook on the future has changed since the fall of the Berlin Wall and the much-discussed "End of History" and how this has been shaped by a shift in outlook on ideals. The project also considers the specificities of three contexts that all have a special relationship to the above problematics:
-Sweden and Denmark are both virtuous democratic states whose roots stem from strong and long-term visions of an equal and free society. But how do the young relate to this history and how does it relate to Europe? Today, the youth of Europe is facing, for the first time after the Second World War, a situation of stasis or even stagnation. Also known as "the lost generation" they have been deprived of the possibility of imagining a future for themselves and the world. Is it this loss of future, and/or the political and economic pressure on austerity that creates room for the empowerment of extreme-right and xenophobic thinking? How can Nordic countries be active in building a shared European future with its neighbouring countries?
-Recent events in Turkey have been marked by a struggle between an authoritarian and repressive state and a large part of society that desires a bigger openness (especially among women, students, artists, cultural practitioners.) Turkey's recent move from secularism that is particularly affecting women's position in society is also reopening a conflict between the European and Asian soul of the country. These clashes have been further fed by the country's quick economic expansion. How to imagine a future in the face of so much tension?
- Flattened by an earthquake in 1963 Skopje has been completely redesigned by Japanese architect Kenzo Tange in one of world's largest examples of architectural Utopia. Under the slogan of "Skopje 2014," the government has started re-styling the city. The program has virtually erased the modernist past in name of a dubious historicity and baroque-inspired eclectic architectural style. The new master plan introduced novel sites of memory that simultaneously serve to invent a new tradition in order to erase the country's Yugoslav past. How does one create a future while the past is being erased?
The project promotes the vision of a broader Europe, sharing the same democratic values, freedom of speech and gender equality. Therefore the project will articulate global and local problematics with the goal to inspire new future horizons based on mutual learning and historical awareness. Where do artists create in relation to these pasts and what role can they play in shaping futures? How do women and the young position themselves in regards to the above questions?
Outcomes
Democracy and freedom of speech arose from secular negotiations between dreams, ideals and factuality. In the Nordic countries we have inherited democracy and its values out of the ashes of conflicting utopias. The dramatic shifts in economic influence on a global scale are producing enormous changes in our societies. There are signs in Europe that much of the progress we made could be reversed in a near future. This new historical framework requires all of us and particularly artists, media workers and academics to engage together, to reflect again on this heritage and ensure a future that our past deserves.
We believe in art's power in nourishing and shaking ordinary language, imagination, and critical thinking as a counterweight to populist oversimplifications. Art's own methodology and language can feed the current hunger for a future provides tools, words and content. In close dialogue with the media, art has the potential to spread and have a wide societal influence in how we look at the future and safeguard democracy and freedom.