- A cultural exchange between China, Norway, Iceland, Russia and Sweden 2015-16.
Participating artists: Lise Kolstad Yuen, Li Xiaofei, Per Hüttner, Egill Sæbjörnsson + local artists TBA for each venue.
Supporting institutions: Kalmar konstmuseum, Kalmar, Sweden; Karolinska institutet, Stockholm, Sweden; Vision Forum, Norrköping, Sweden; Pikene på Broen, Kirkenes, Norway; partners TBA in Murmansk.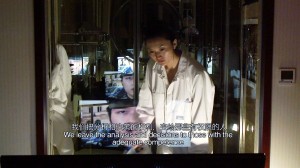 Background
Lise Kolstad Yuen, Li Xiaofei, Per Hüttner were in residency in Munich spring 2014 which resulted in an exhibition and a video program both under the title "Change and Exchange." During the residency a dialogue around the relationship between inner and outside world of the human experience developed between the three artists. The discussions sparked the idea for a larger collaboration between the three artists and their respective countries.
Project
The artists of the project will together visit neuroscience labs, psychiatric wards, kindergartens, homes for the elderly and factories in the four countries (Sweden, Norway, North West Russia and China.) The idea is to visit sites that are "hidden away" from the public gaze in order to understand why certain human activities are deemed less appropriate to be seen. The artists will talk to people living and working in these places in order to get a sense of their private and professional lives.
The goal of the visits is to get a better understanding of two questions:
- What can be learned from what we hide away, especially in regards to the creation and maintenance of human empathy?
- How can art become better at supporting the creation and maintenance of human empathy?
Recent research in neuroscience suggests (often leaning on the Implicit Association Test) that the brain tends towards prejudice and that human empathy is the only tool to counteract the "populist hardwiring" of our neurological system. The participants of the project see that art can play a far more active role in this process than it does today. But in order to develop this potential we need to learn more about empathy and how we can develop new ways of working with different audiences. Empathy also safeguards that Nordic cultures stay open and intercultural.
The Visits
-Factories: We use objects produced in factories every moment of our waking lives. But where are these objects produced? Who are the people who work there? Most of the worldwide production of goods come from China and there are ethical problems related to workers' rights and health - something that more need to see?

-Neuroscience labs: Science claims to be truly global, but are labs identical across the globe? Neuroscience currently offers new research related to the importance of empathy in human interaction - how can art use this?

-Psychiatric wards: Are there cultural differences between how we see psychiatric disorders? Recent research suggests that the very expectations we have on mental disorder shape what psychotic states people enter. Are psychiatric disorders seen differently in China and Europe?

-Kindergartens: Are kindergartens in Scandinavia and China the same? How has the single child policy influenced values?

-Elderly care: Do the sick and the old need to be hidden from view?

The Partners
Most of the partners in the project (Pikene på broen, Kalmar konstmuseum, FCAC, Vision Forum, Karolinska institutet and artists in and around Murmansk,) will host social events where people from the visited sites can meet and discuss their life situations. There will also be public lectures by the artists about their practice and about their work with the project. These events will build new audiences, new interfaces and new working methods both for artists and partners – especially in relation to the visited sites.

Through the project, the artists will understand better how new artistic expressions can trigger the desire to expand individual lives and take on new challenges. The project will also give the group a deeper understanding how art can play a more active role in safeguarding diversity, tolerance and the creation of new and inspiring ideas in different communities.

The project draws together artists from Sweden, Norway, Iceland, North West Russia and China and connects people from fertile and densely populated areas with some of the most hostile and lightly populated areas of the world. The collaboration is of special interest in the light of the climatic changes that have re-opened the North East Passage; the shorter northern route between Europe and Asia. It has become possible to ship goods between Europe and Asia. This has sparked great investor interest in the arctic. These changes will lead to a greater exchange between the two regions and we see artistic exchange as an important step towards a more important and meaningful between the people(s) engaged in these dialogues.

The interdisciplinary nature the project encourages new dialogues and cultural production that are innovative and open to a broad audience. Together with partners and artists we will encourage our audiences to appreciate the complexity of Nordic cultural heritage and how it is linked to diverse sets of backgrounds and roots that cannot be contained in the borders of a single country, discipline or language. Together we want to dare them to take on new challenges.

This research will later lead to exhibitions that will be created in 2016-17 in Sweden, Norway, North West Russia and China. But before that we will bring together a wide selection of the participants for an evaluation event in Sweden in spring 2016.